At Lush Lashes & Microblading I understand how important it is for men to look and feel their best. Every treatment available can be adapted to suit any man, as an individual. I can improve your brow shape and colour, or cover up unsightly scars with natural looking hair strokes. Whatever your concern, I can help you look your very best in the most natural way possible.
A brow treatment is a three–part process usually completed within two appointments. The price you are quoted will include all three stages.
THE CONSULTATION
The first part of the process is a consultation. This is normally done as part of your initial treatment, but can be done separately if you prefer.  I will talk with you in great detail about the look you are trying to achieve and what I may recommend to you. This is very much a two-way conversation. I listen, I respond, I advise. Once I have an idea of the look you are aiming for, I draw the brows on with a makeup pencil. These can be drawn on and adjusted 50 times if necessary! I will never begin the tattoo process until you are completely happy with what they are going to look like.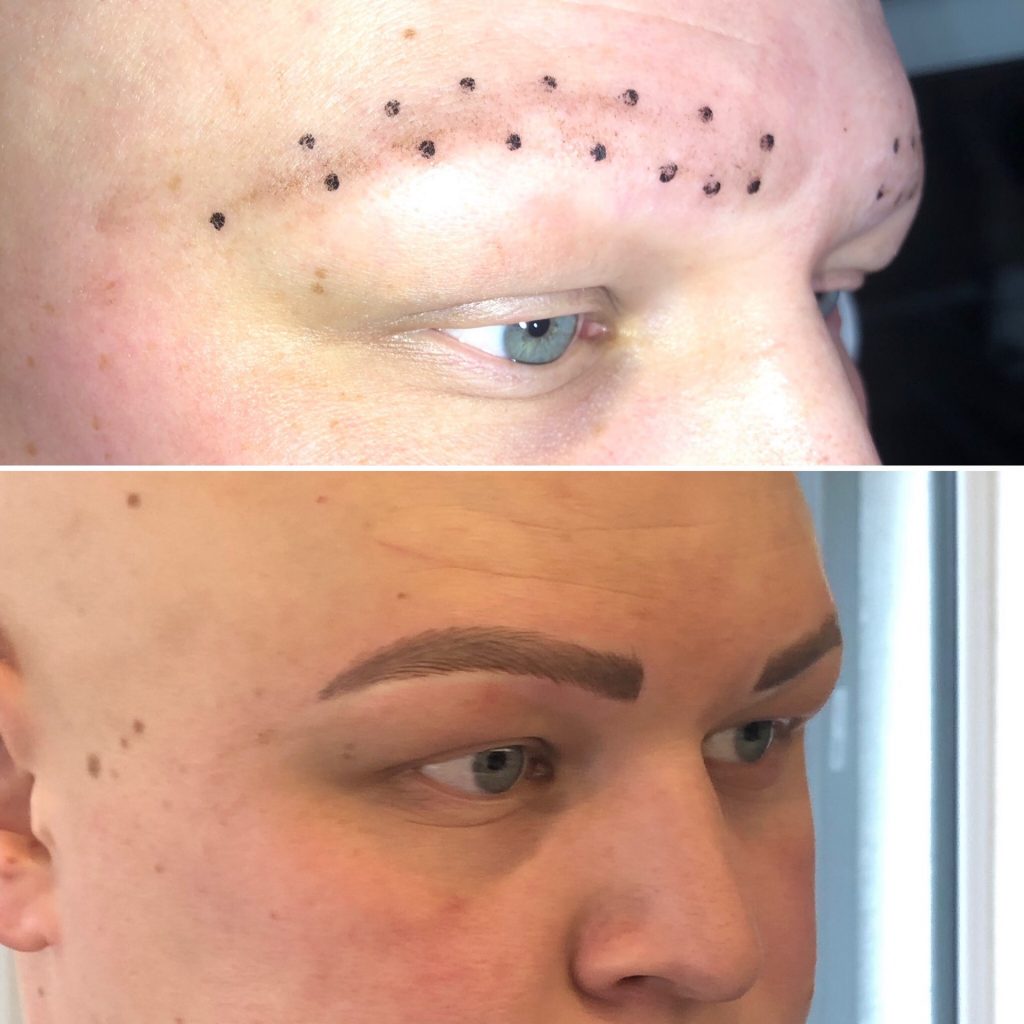 THE TREATMENT
Using a specialist procedure, I gently apply pigment to the skin using very fine needles. The sensation is that of a slight scratch to the skin. We will always work with you at this stage, giving you breaks if you need them. The process normally takes about 90 minutes, but it varies from person to person depending on your individual requirements. Immediately after a brow treatment you should expect the area to look 40-50% darker than the colour you have chosen in consultation. This will start to fade after 3-4 days.
THE RETOUCH
A second appointment is needed 4-6 weeks after your first treatment. This is usually a 30-60 minute appointment to add more pigment to the brow area. This is because as the area is healing, some parts may not 'hold' as well as others and you may have a few patches that need more colour. This is completely normal and everyone heals differently. Whatever the case, we advise you always come back to clinic to discuss your retouch.
CUSTOMER TESTIMONIAL
I recently decided to see Clare after searching lots of places online for Microblading. 
I was diagnosed with Alopecia around 2 years ago and it was quite a nerve racking thing to do, especially being a bloke!
My girlfriend encouraged me to pop along my for a chat with Clare about what she could offer as her work seemed very effective with regards to looking natural, something I particularly wanted to start off with.
Clare made me feel so comfortable and relaxed about it, I let her do her work and I am so glad I did, she started off with subtle strokes in case I didn't like it but I was really impressed!  It has given me the confidence to start going our more and even helped me decide to book myself in for micro pigmentation, for where I have lost the hair on my head. 
Having brows again really helped me visualise what it would look like to have hair again, and I thank my family for the encouragement and Clare for making it possible without any hassle or worry of going to 'the wrong person'.  She really is creative and flexible and she knows her stuff.
Thanks again Clare for helping me on this path to confidence.  Best decision I have made since getting Alopecia.
Thank you
Gwyn Daniel Smith