My experience includes providing treatments for people with alopecia, those who are experiencing chemotherapy or have other health conditions leading to hair loss.
My approach to the treatment will depend on your condition (for instance, whether your immune system is compromised in any way), your stage of hair loss, your expectation around hair re-growth and so on. I will need to spend time discussing this with you, so that we can adjust our approach, technique and even method of pigment implantation specifically for you.
I will work with you to design a solution that meets your needs –you will see and be able to approve the final look before it is actually applied. If an illness has caused loss of eyebrows or eyelashes, it may have happened suddenly. It is an unwelcome daily reminder for you – as well as adding something else to your plate.
Your focus needs to be on positive things, I understand that and can provide a solution.  I will take you from hiding in the shadows to enjoying the warmth of the sunlight!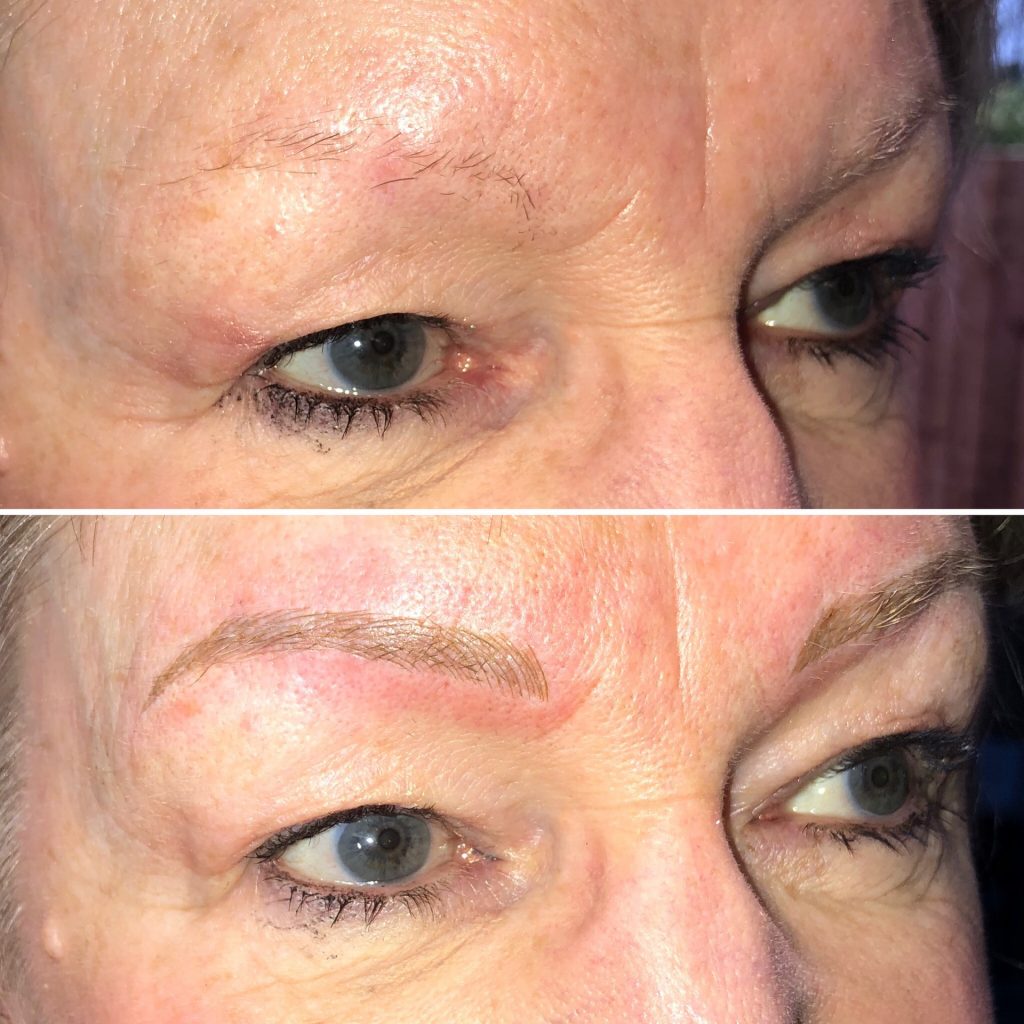 THE CONSULTATION
Prior to the treatment, you will have a personal medical consultation where I will explore your medical history in detail. In order to ensure the correct outcome, I will need to understand what surgery or treatments you have had (or are planned for the future).
I will then discuss your desired outcome from the treatment. What exactly do you want to achieve? To change your looks? To replace what has been lost? To feel more confident?
Knowing this will help me to work with you, to develop a solution that meets your needs. In addition to that, I will naturally take into account other factors such as your personal style, skin tone and facial features.
During the design phase I will put my make-up artist hat on and literally draw your new brows onto your skin. You will be fully involved in this process. I will be your guide, but you will be the one to approve exactly what everything looks like.
Finally, I will work on your colours. Depending on how natural, subtle or strong you want the result, then will custom blend my colours to perfectly match your requirements. Again, you will be fully involved in this part of the process.
THE TREATMENT
Next, it's time for the magic which is medical tattooing. The treatment itself involves gently implanting microscopic particles of pigment into the reticular layer of the skin. The specialist equipment used is refined, quiet and gentle. The treatment time will depend on your requirements and the treatment required.
THE RETOUCH
Your healed result will tend to look darker in appearance. However, this will soften in a few days, the colour will lighten considerably. You will need to follow a simple aftercare routine which involves basic care of the area and application of a gentle balm. After a few days the colour will gradually settle and increase in a pleasing intensity over the next few weeks.